Success Stories
Author Testimonials
"Outskirts Press was the perfect publisher for my book on Business Reorganizations. As a practicing attorney, I knew choosing the right publisher was very important." - Myles Alderman (Hartford, CT), author of Chapter 11: Business Reorganizations
In Author's Words
Author Testimonials
---
Introducing John Daly, author of Not All Good Not All Bad
Wednesday, November 26, 2014, 5:00:43 PM | Outskirts Press
"I am very pleased with Jennifer's work. She is a wonderful asset for your organization"
JOHN DALY is an active member of the Virginia and the District of Columbia Bars. He lives in Virginia and Florida. His last book in the Mason series was, The Story Teller. For more information on John Daly visit http://www.johndalyonline.com
---
Introducing Clayton Kidd, author of No Kings X
Tuesday, November 25, 2014, 5:00:57 PM | Outskirts Press

"Dana did an outstanding job of keeping me informed as to what was needed next. This was all new to me and Dana really minimized the stress by explaining everything. Overall I was very happy with the outcome."
Clayton Kidd is a captain in the Tucson Police Department, with over 30 years of law enforcement experience. He is a proud veteran of the U.S. Army and a current member of the adjunct faculty for Arizona State University and Pima Community College, instructing in the fields of criminal law and domestic terrorism. He is a native of Tucson, Arizona, where he lives with his wife and family.
---
Introducing Michael and Heather Edmonds, author of The Crash Between Heaven and Hell
Monday, November 24, 2014, 5:00:20 PM | Outskirts Press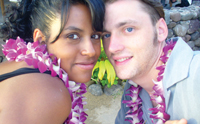 "Outskirts press and all of their employees were excellent. They helped us turn our book into a finished product and followed through, correcting any issues that came up. We received a quality product with low prices. We have watched Outskirts Press and have checked their products and publishing services for the past three years before we decided to submit our manuscript and we also checked with the BBB before making our purchases. Great Product, Great People."
Michael and Heather Edmonds met in college. They now live in Colorado with their four children and two dogs. They have been together for more than a decade, and share a passion for education, writing, art, myths and superstitions, camping, and movies. Their favorite running joke is the impending "zombie apocalypse" and their "zombie plan." The Crash Between Heaven and Hell is the couple's first book together. Their creativity is inspired by the unique qualities each of them brings to writing: Mike is the expert crafter of horror and oddities, while Heather brings depth, humanity, and romance to the characters and their stories. They plan to continue their successful collaboration and look forward to publishing the next book in the series.
A Closer Look
Author Case Studies
The authors below have graciously given us permission to share their successes with the following detailed case studies...