5.5 x 8.5 Paperback

ISBN: 9781598005684

$10.95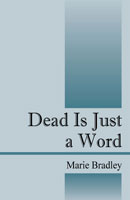 Is there life after death and, if so, how can we be sure? The incredibly gripping experiences and testimonials within the pages of this book will provide the answers to your unspoken questions; answers that will enlighten you and bring comfort to your very soul. If you believe the cherished friends and family members that you've lost to death over the years are really gone, you may find yourself considering the strong probability that they are still here in spirit form and remain ever present in your life.



As the paramedics and doctors worked frantically to get his heart beating again, the experience Peter was having was little short of amazing, especially to him. He suddenly found himself in a laying position with his head on the lap of his loving grandmother; she stroked his hair and reassured him that somehow all was well and very peaceful. Several years prior, this very grandmother had passed away after a long, agonizing bout with cancer.



About Marie Bradley






Marie Bradley is a student of the spiritual condition, wielding the written craft to enrapture the mind much like an artist wields a brush. The pages are a blank canvas on which to draw from a talent heralded by many and matched only by an imagination that rises to the task. Dead Is Just a Word is the first in a series of recent pursuits, with work progressing quickly on the follow-up.

Marie Bradley has spent almost 20 years researching the phenomena associated with life after death and near death experiences. In 1986, she lost her dearly beloved mother to Alzheimer's disease. Shortly after her mother's death, Marie began to observe blatant signs that her mother was dead and gone physically but still very much alive and present spiritually. Fourteen years later, she lost her father to cancer and was once again to witness this amazing phenomena; audible and physical signs that the spirit of her father was still present.

As the years passed, Marie became more sensitive to and more intrigued by the ever present signs of life after death. She decided to further research these incredible phenomena. Her research included the interviewing of many people who had gone through similar experiences as well as people who had had near death experiences and has found it be a fascinating if not enlightening journey.








The Divine Heart
Search Engine Optimization and SEO Tools
*** 100% FREE ADVERTISING ***








Maxxhits.com
- FREE Search Engine Submission

MillionEbooks - Knowledge = Powerful Information = Wealth


HTML code: Bonus Lifetime Gold Access to Resell Rights Mastery ($197 Value)Click Here For Online Resource Directory
Free Web Directory the best web directory, offering free submission in an human edited catalog.Submit your Articles to My Ad Directory - Article submission and content you can use for free at MyAdDirectory.com




make a wish