5.5 x 8.5 Paperback cream

ISBN: 9781432733742

$13.95

Instant e-Book Download

$5.00

Note: e-Books are for electronic enjoyment only. They may not be edited or printed.
| | |
| --- | --- |
| Genre: | RELIGION / Inspirational |
| Publication: | Dec 18, 2008 |
| Pages: | 83 |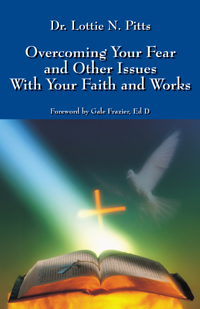 Be inspired! Be motivated! Be the Victor, and not the enemy's victim. God has given you the victory! "For God hath not given us the spirit of fear, but of power, and of love, and of a sound mind." If you or someone you know have allowed fear or other repressing issues in life keep you from reaching your divine destiny, this book has been written especially for you. Do you have a spirit of fear or other hindrances that are holding you hostage? Are you constantly afraid of failure, rejection, the dark, flying in a plane, etc.? Are you a victim of low self-esteem, or know someone who is? In this book, you will rediscover how to receive God's deliverance from these hindrances, and live an overcoming, victorious, and liberated life. You will be encouraged to draw from the power that is within you by exercising your faith in God, and confronting your fear or other issues that are oppressing you with power. You can overcome your fear and negative issues with your faith and works. Faith conquers and replaces fear. After identifying, acknowledging, and confronting your fear or other issues, you must take control over it with your faith and action. Activate your faith in the area of your fear and watch fear disappear, and the negative issues fade away. Pray and ask God to release your freedom or miracle in Jesus' name. Then expect it to happen.
Also be blessed by some of the author's own personal experiences of overcoming the spirit of fear and other life issues. God answered her prayers and He is able to do the same for you. God will deliver you. Remember, we will encounter adverse issues, but it is how we handle them with our faith that will produce an outcome of victory. ...From the front to the back cover, every chapter is predicated upon the Word of God; for it is the Word of God that has been sent to save, heal, and deliver those that are in distress.
Evangelist Dr. Lottie N. Pitts
TESTIMONIALS: ...Dr. Pitts, As I have said before, your book truly blessed me in more ways than I can explain in words. It blessed me so that I wanted to share it with the students in my bible study. Your book truly blessed them. About 6 women joined me in studying how we can overcome our fears. We studied one chapter a week and took time to reflect how we may overcome the issues of our lives. Many came to realize that what they thought was their "normal" behavior was really a fear that they had all of their lives. One lady came to realize that she needed some additional help and is seeking counseling with her pastor. We shed a lot of tears but in the end came out victorious. A couple have passed the book on to their daughters. Continue to let God use you. Carmen Moore
...Testimonial #2 - I strongly recommend this book to every reader. In the book, Dr. Pitts definitely inspires each of us to walk in victory and not in defeat; walk by faith, and not in fear. Her personal testimonies of victory over the spirit of fear and other hindrances that she has faced, were very uplifting and encouraging. ...I believe this book will help readers to overcome by meeting their challenges head on and marching forward by faith triumphantly. The Pastor
...#3 Finally, a book on the market that ministers to me and blesses my soul. Overcoming Your Fear and Other Issues... is truly a God sent book. This book has inspired me to trust in God no matter what obstacles come my way. I encourage everyone to buy and read this anointed book that God has given this woman of God to write. May God continue to bless you, Dr. Pitts, for this anointed Word. Deshaun Goodwin

Media Center

Press play to listen to audio excerpt...









It was truly a blessing to write this book, because I realized it will serve as a guide to the liberation of many believers and others who have been repressed by the spirit of fear or other bondages. This book will shed light on spiritual blinders, and help you conquer one of the enemy's most powerful weapons, FEAR, which he uses to control, manipulate, and bind the children of God.

Child of God, you have already been set free. So why allow the enemy to cause you to live beneath the privileges of the freedom and power, which God has given to you? The children of God have the overcoming power to be victorious over the enemy, and his intrusion in their lives that hold them hostage and in bondage with fear, doubt, and unbelief.

In this book you will discover how to receive God's deliverance, and become a victor over the enemy and not the enemy's victim. You will also rediscover how to draw from the power that is within you, by activating your faith in God along with your works (corresponding actions). You must confront your fears or any other issues that are oppressing you; take control and bind them in Jesus' name, and send them back to where they came from. Remember, the spirit of fear comes from the enemy. However, the spirit of power, love, and a sound mind has been given to us by God.



About Dr. Lottie N. Pitts


Dr. Pitts, an anointed motivational speaker, school teacher, and author; is also a prayer warrior who believes that God can do anything but fail. She demonstrates a heartfelt love for all people, especially for the household of faith. Dr. Pitts has been a missionary since she was eighteen years old, a licensed evangelist for over twenty five years, and a district missionary in the Church Of God In Christ, Inc., for over sixteen years. Dr. Pitts is the CEO of T.H.E. Learning Center, Inc. of Chicago. She holds a B S Degree in Educational Administration and a Master's in Christian Education. Dr. Pitts has also earned her Doctor Degree in Ministry of Christian Education from the Midwest Theological Institute. She is the wife of Elder Dr. Thaddeus L. Pitts,the pastor of Greater Jackson Tabernacle C.O.G.I.C. in Chicago. She regularly conducts revivals and workshops to enhance the saintliness of God's people, and inspire them to live a prosperous and victorious life in Jesus Christ. Besides her fervent desire to win souls for Christ, she desires to see God's people be blessed and take back what the devil has stolen from us. Truly, she is in agreement with John's affirmation, "Beloved, I wish above all things that thou mayest prosper and be in health, even as thy soul prospereth." Third John 1:2



In the event that you are unable to contact her by clicking on the Contact Author's link, you may contact her at: Email:lottiesgifts1@sbcglobal.net, and give her your email address and the items you want to order. You will be able to make your purchase thru Paypal. To view more details, go to her other website is: www.rthmagazine-tlcenter.com. You may also purchase the book at Azizi Book Store in Lincoln Mall, in Matteson, or the Family Christian Store in Matteson, IL. or on-line ...You are welcome to check out her other books, Precious Jewels For a Princess. "Whether you are sixteen or sixty, if you are a daughter of the King of kings, you are entitled to receive precious jewels filled with godly principles, expressions of wisdom, short stories, etc., which are destined for YOU, a King's daughter." Cost - $10.00 plus S & H $3.00 -- NOW HOT OFF THE PRESS, Lottie's newest released book - Caring Enough To Share A Hug. It's a very inspirational book on demonstrating love and compassion through a hug - Including a Bonus Section sharing some of my Family and friends's favorite recipes; Now on sale for $12.00 plus S & H $3.00. Send your email address in order to pay thru Paypal or mail orders to P. O. Box 952, Matteson, Illinois 60443