6.14 x 9.21 paperback

ISBN: 9781432743161

$13.95
| | |
| --- | --- |
| Genre: | TRAVEL / United States / General |
| Publication: | Sep 17, 2009 |
| Pages: | 101 |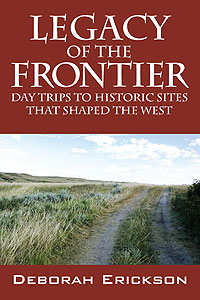 With evocative stories and eye-opening photographs, Legacy of the Frontier: Day Trips to Historic Sites that Shaped the West unlocks the distinctive history of four must-visit destinations in the Rocky Mountain West. Not just a mere travel guide, this fully illustrated book sheds light on places where courageous men and women forged paths through this untamed and vast segment of the continent-and left their permanent mark on the landscape in the process.
In historically inspired narratives, background sketches, essays and images, author Deborah Erickson brings the past of this historic region back to life. You'll visit:
* Bent's Old Fort National Historic Site, where a frontier trading post evolved into a central player in the nation's economic activity and security;
* Georgetown, Colorado, where the silver rush built a raucous, anything-goes mining town whose remnants are still functioning today;
* Scotts Bluff National Monument, perhaps the most iconic landmark on the Oregon Trail; and
* Fort Laramie National Historic Site, where encounters between soldiers, settlers, and Indians took place as America grew.
In addition, Legacy of the Frontier includes detailed maps, driving directions, multiple side-trips and recommendations for further reading. Join traders, mountain men, miners, overland pioneers, soldiers and Indians and together walk the road of Western history.

MORE THAN JUST A MOUNTAIN— For centuries, a large sandstone and clay formation near the North Platte River had been a familiar sight to Indians, hunters and trappers. Many called it by its Indian name, Me-a-pa-te. A fur company clerk, Hiram Scott, died in 1828 near the rocky mound and from then on, it had a new name—Scotts Bluff.

During a span of more than 20 years, pioneers from the East and Midwest followed the Oregon Trail toward land in the newly acquired western part of the United States. The scenery on the plains was unlike anything they had ever seen back home. The flat, barren prairie stretched before them like an endless sea of grass and dirt. They journeyed beside shallow rivers and trekked along rutted trails of those who had gone before. To help them find the way, they sought out landmarks described in their guidebooks.

Occasionally, a large formation would loom on the horizon for days, hazy at first, but becoming more distinct with each slowly passing mile. Scotts Bluff was one such landmark.

To the emigrants, it was much more than a spot on the trail where they could stop and rest for a short while. It meant that they had completed almost one-third of their journey. The pioneers also knew that reaching Scotts Bluff meant that the formidable Rocky Mountains were not far away. Still, their arrival at Scotts Bluff was cause for celebration, for every day on the trail brought them a day closer to a new life in the West.



December 29, 1844

Union County, Ohio

I've kept a journal for many of my 28 years, but I have a feeling the most important entries will be made in the months to come. Husband Daniel came home today, after talking most of the morning with my brother James, and announced that our two families will be moving to the new land in the western part of the country. They say "Oregon Fever" has swept them up with the promise of a new life in a land of plenty and both agree that the soil we are farming here is about worn out. The ground in Oregon is said to be rich and ripe for planting, so the men have decided we must go.

"We need to move as soon as possible," Daniel explained, "so we can be in the new territory while the best land is still available to settlers like us." I surely don't want to leave Union County, for this is where I have always lived, but I can see by the look in Daniel's eyes that I will have no say in this decision.

I can't imagine leaving everything we have in Ohio, but the promise of a better life for all of us is what is drawing Daniel and James to make this decision. A better life for our three children sounds wonderful, but what will we end up sacrificing? No time to think about that now, for we must begin to make preparations for an early spring departure.



About Deborah Erickson



Deborah Erickson is an avid traveler and writer. Living in Denver, Colorado, presents countless opportunities for Erickson and her husband, Mike, to experience the area's Wild West history.