5 x 8 paperback white

ISBN: 9781432794354

$15.95

Instant e-Book Download

$5.99

Note: e-Books are for electronic enjoyment only. They may not be edited or printed.
| | |
| --- | --- |
| Genre: | FICTION / Horror |
| Publication: | Aug 08, 2012 |
| Pages: | 388 |
Kevin J. Howard's novel, Faithful Shadow, takes you beyond the splendor of nature to the terror that lies beneath, one that should have never been discovered. Yellowstone is suffering from the largest forest fire in the park's history. Ranger JOE RAND, once passionate about nature and now drowning in alcohol after the recent death of his son, notices something is very wrong after a string of disappearances. When a fireman is found dead in the Old Faithful Inn after falling into a hole earlier that day, his body mauled and deprived of all its fluids, Joe knows he has no choice but to set down his flask and investigate. Joe and Lieutenant DALE CAFFEY of the Billings Fire Department go into the woods to search the hole the fireman had fallen into. They discover a series of tunnels lined with bones, the air thick with smoke. Joe and Dale conclude that the creature that had killed the fireman had left its subterranean dwelling to flee the overwhelming smoke from the fire above. The creature takes shelter inside the Inn, concealing itself within the darkened crevices, emerging only to feast on passersby. After staging an evacuation of the park, they lock themselves inside the Inn to hunt the creature. After just a short while it becomes frighteningly clear that, in fact, the creature that is hunting them.

Media Center

Press play to watch the video...







About Kevin J. Howard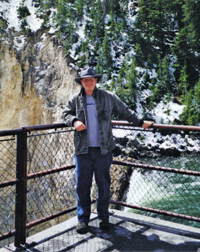 Kevin Howard lives with his family in Washington. He worked in Yellowstone National Park for the summer season as part of a family tradition. Kevin, his wife Melissa, and his two young children enjoy spending summers there. Please visit www.Authorkevinjhoward.com.