8.5 x 8.5 color paperback

ISBN: 9781432756130

$17.95
| | |
| --- | --- |
| Genre: | JUVENILE FICTION / Action & Adventure / General |
| Publication: | Aug 31, 2010 |
| Pages: | 35 |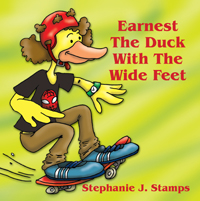 Earnest hated his wide feet. They weren't just a little wide, they were extra wide. Then on top of that, he couldn't wear sandals, which he loved. His dream of wearing sandals like his friends, seemed like it would never come true. Why did he have to be so different, and have such weird feet? Earnest had finally decided to give up on his dream of sandals, while shopping for shoes in the mall. His mom was probably right, since she had extra wide feet too. However, just when Earnest had given up, he met a shoe salesman, named Stanley.

"Well, let me take a look at your feet Earnest, if you don't mind," Stanley said. "For what",said Earnest losing his patience.



About Stephanie J. Stamps


Written by Stephanie Stamps with an illustration concept of Earnest created by her daughter, Rachel. Earnest the Duck with Wide Feet is a story, that will help children appreciate who they are, and whoever they may be, and to be proud of themselves. It will also inspire children that if there is a problem, find a solution. Just like Earnest did. Even as a child, the author, loved to write stories. Now she has been inspired to write, Earnest the Duck with the Wide Feet, after making it up as a bedtime story for her youngest daughter, Sonja Maria.