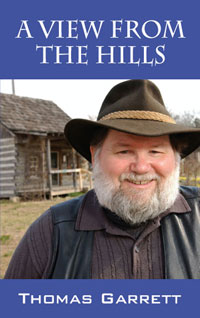 Ever have one of those lives?
Have you ever found yourself stuck behind land yachts?
Do telemarketers have your number?
Are you tired of people telling you everything you like is bad for you?
Does technology gang up on you?
Do you miss the days of soda fountains, cheap gasoline and when hamburgers didn't cost $6?
Do you ever wonder whatever really happened to Randolph Scott? (More importantly, do you even remember Randolph Scott?)
So does Sonny Garrett, and from the hills of the Ozarks he ponders these and other of life's questions in his weekly newspaper column. These are some of his observations on life, the universe and the benefits of a good cup of coffee.
"The boy never was right." - Mom and Dad
"Please buy this book. The kids need shoes, and the dog and cat need food." - Kim, author's wife
"I'm still dead." - Francisco Franco, late dictator of Spain