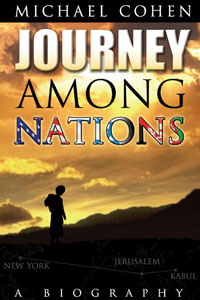 Jewish Afghan families immigrate through Iran to Israel and America in hostile wartimes.
Accompany the author, Michael Cohen, on his self-made spiritual voyage through historic generations. In this novel, he charmingly depicts the fascinating journey among different cultures and the three major monotheistic western religions.
Michael Cohen travels from his beloved kingdom of Afghanistan; to Israel with his family to serve the army in the homeland of his faith; to America, the land of opportunity and success.
Experience the memoirs of a young man growing up in Afghanistan, a prosperous and peaceful country ruled by a tolerant king. Michael�s family moves to Israel in his late teens due to an arousal of deep religious sentiments at the time of the six day war. Admire the trials and tribulations, and lessons from times of yore - Love, kindness and charity to bestow upon future generations.
Authentic inspirational moments which will enthrall your soul and spirit.